A 6,000 capacity foundation of Divine Mercy Cathedral of the Catholic Archdiocese of Jos, has been laid to mark 100 years anniversary of the church by the Catholic Arch Bishop of Jos, Most Revd Dr Ignatius A. Kaigama.
The foundation-laying of the Cathedral was done on Friday, opposite Lamigo Dam, off Kwan Road in Jos.
Arch Bishop Kaigama, who is also the President of Catholic Bishops Conference of Nigeria, called on Christians to donate cheerfully for the propagation of God's work, and appealed to the parishioners to emulate the spirit of giving so as to promote the new Cathedral.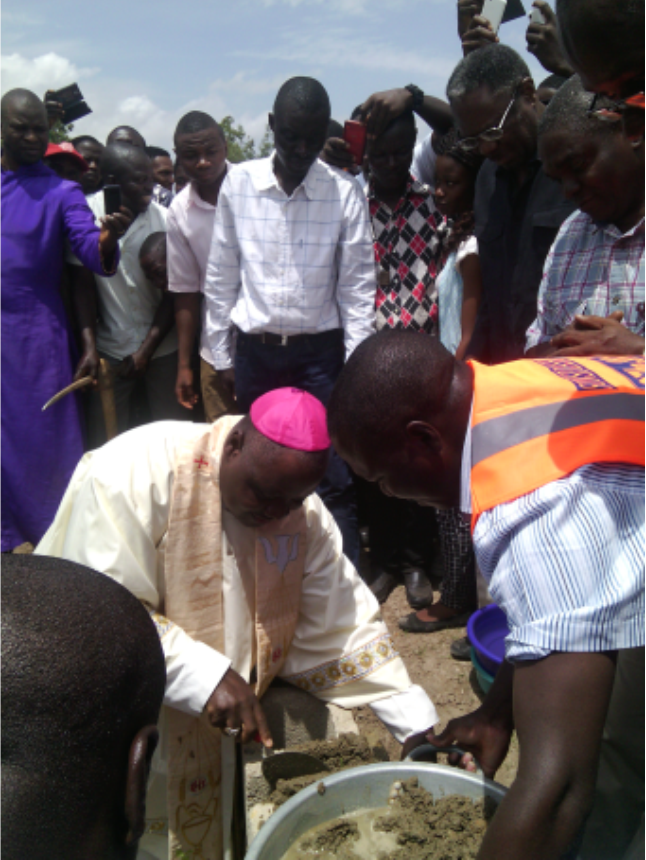 The Catholic Arch Bishop of Jos, Most Revd Ignatius A. Kaigama, laying foundation in Kwan side of the new Cathedral.
According to the Arch Bishop, the ideas came up in a meeting with a passion by members of the catholic members of the laity to dedicate an edifice to the glory of God's work.
In another reaction, the cleric charged the Niger Delta avengers to consider the plight and suffering of Nigerians before embarking on the bombing of pipelines. Kaigama explained that within the one year of President Muhammadu Buhari, a lot has been achieved in the area of peaceful coexistence in Nigeria and the state, and commended the government for fighting corruption and reducing public embezzlement of funds to its barest minimum.
The Arch Bishop explained further that no kobo was given to them to begin the work, either outside or from the private; but was born out of parishioners' readiness to sacrifice to this edifice.
The structural consultant, Dr Godwin Oduma, assured his determination to the successful completion of the cathedral within the time frame, and promised to deliver on quality work. He said the building, when completed, will accommodate many members. He encouraged parishioners to remain committed towards the completion of the project through their personal contributions. The contract was awarded to Sound Splash Business System.